Day Twelve: Zion National Park, Utah
This morning we departed Barstow, after pillaging and ransacking their delightful breakfasting area, replete with all manner of upscale hotel breakfast fodder, of a decidedly non-continental nature. We ran straight into a surprisingly vicious desert rainstorm. Impressive winds and quite a downpour, but we were heading east and in no mood to remain perpetually in bad weather so we powered through. Once out of the rain, driving was a bit less tense, but the clouds were treacherously low and brooding. Took a picture or two of the yucca trees and the low-lying clouds:
And the clouds over this mesa were interesting:
We finally crossed out of California, that beloved, though ape-shit crazy state of my nativity, and passed into Nevada. Nevada is the sort of state that would be a bland, uninteresting ranching state like Idaho without gambling, and one can spot any highway border with Nevada by the unspeakably garish gambling settlement planted inches from the actual state line. No, I didn't take any pictures.
But we drove through Vegas, which I've never been profoundly fond of, and the traffic and omnipresent advertising did little to win me over, but we had one last In-N-Out burger there and enjoyed the less-expensive-than-California gasoline. Cheers to Angle, though!
Next up, the corner of Arizona, a state I've come to be rather fond of. Not much of it to see when chipping the northwest corner on I-15, but the Virgin River Gorge is impressive. We took copious photos while passing through but none really display the massiveness one observes, deep in this rather narrow chasm, hurtling through at 55mph. Here's one such insignificant shot.
Then into Utah, home of the Momos! On highway 9, getting close to Zion:
Beautiful ridges on the outskirts:
So we checked into our hotel, and after unpacking, I took my laptop onto the balcony to work on my work emails. This was the view from my "desk":
Also from the balcony: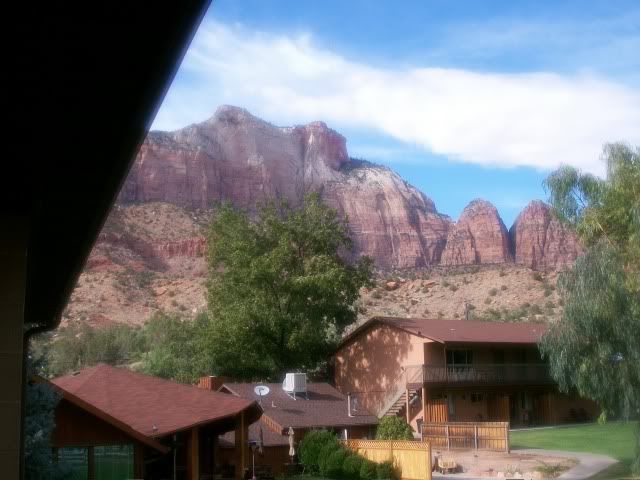 The family went for a swim. Nice view from a swimming pool:
Gretchen loves swimming, need to start this girl on swimming lessons.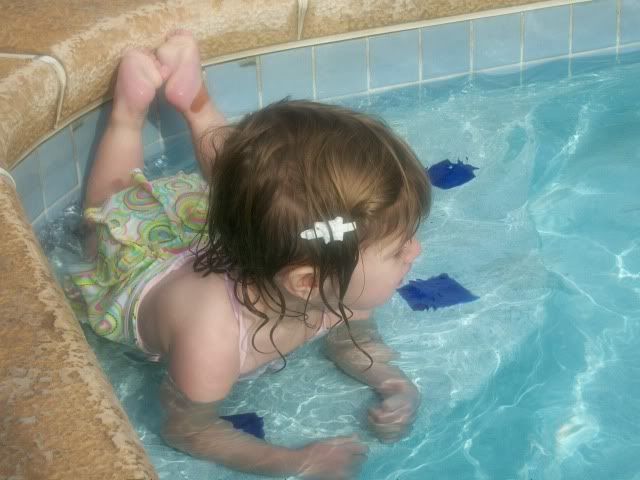 Sun starts to set...
Gretchen loved the horses next door!
I decided to grill, so we picked up some italian sausages and peppers to cook, and I headed back towards the picnic area. They had a little spot right next to the river:
Nice backdrop to cook by.