Day Thirteen: Zion National Park, Utah
Still in Zion, a somewhat simple day that doesn't lend itself to a lot of commentary, in that all we've really done is sort of wander around and look at things, which is the proper and expected activity in a place like this. We were expecting rain all day but it has been sunny and cool all day, with no signs of oncoming storms as of this afternoon.
Here was a shot at the entrance to the park, where the morning sun brightly illuminated the top of the canyon walls, wreathed in clouds.
We rode the shuttle to the Temple of Sinawava, which sounds like it belongs in a role playing game from the nineties, and we walked along the "Riverside" trail.
I know I'm fast becoming cliche-sodden when I insufferably trot out that old "pictures can't express blah blah blah" line, but, well, it is sort of applicable.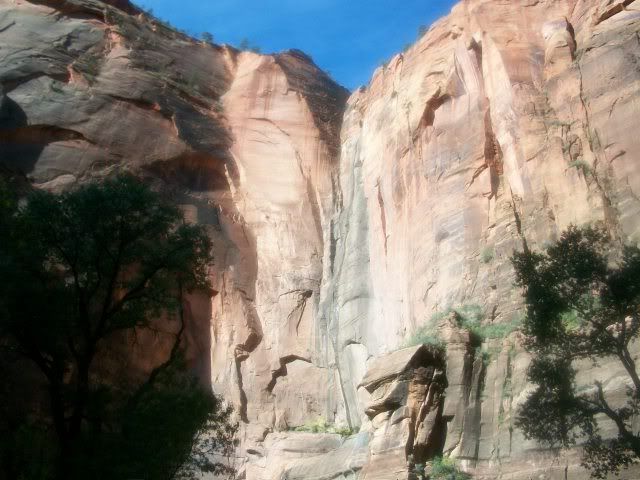 Gretchen was, of course, most interested in playing in the sandy dirt.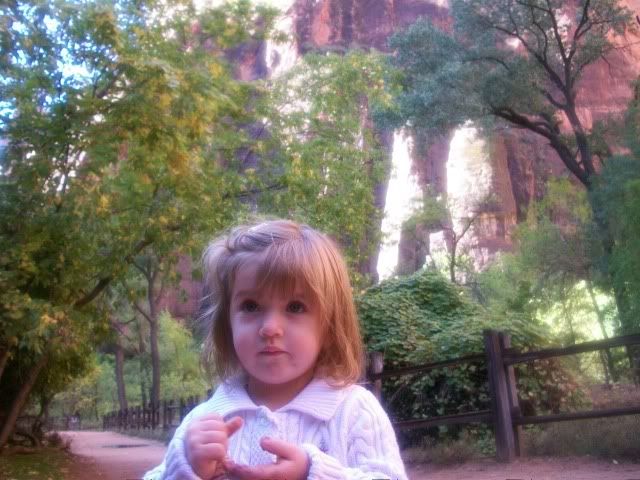 The canyon floor and river: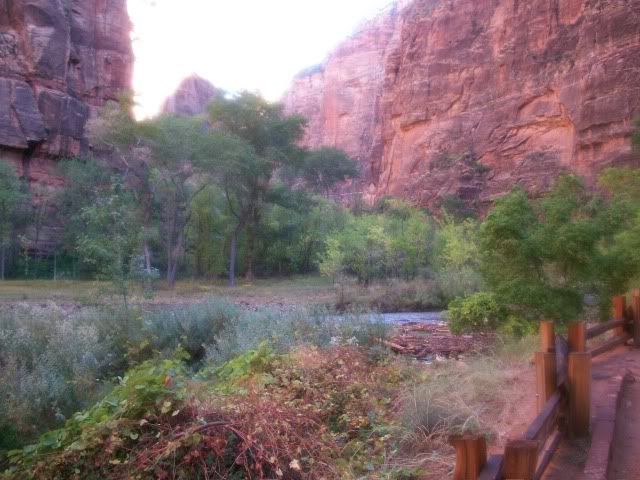 Me trying, again, in vain to show the scale of these walls:
One of the great things about Zion is the vibrance of the colour...plenty of green, in comparison to the Grand Canyon, contrasting with the very rich red of the earth and rock.
The river:
Thought that this strange cutout in the canyon wall was interesting. Many stories tall. I wonder if the rock just fell away at some point.
The shelf halfway up on this cliff had a carpet of trees and vegetation that give a semblance of scale.
Angel's Landing, seen through the window of the bus. The first time we came to Zion I was ignorant and thought "hey why don't we hike this?" I learned more about it and wised up.
The Patriarchs, shrouded in clouds. Shooting through bus windows doesn't really help the image quality, sorry.
Back in town we realized, much though I had vowed not to, we would in fact eat lunch at the fusion Thai/Chinese place that charges way, way too much for food that I would barely pay McDonalds prices for in Kansas City. I mean, it isn't terrible, but it's not that great, and certainly doesn't deserve the insane prices it commands. However, what I vow in Kansas City is different than in Springdale, for the alternatives were even more expensive and less impressive. This is not a good town to save money on food in.
The horses at least have a fairly readily available source of food:
Tomorrow marks the beginning of the final stretch, three days of driving and we're back in KC.