Day Five: Disneyland
So Day Four is missing, you say. No, in case your mind is swirling with all sorts of improbable astrophysical explanations for a missing day, I must ask you to apply the Razor that that bloke Ockham bunged about the place. No need to overcomplicate, the simplest explanation is that we simply didn't blog about it. Due to some great fun at the Grand Canyon involving sleep, or particularly, the inability of our daughter to get to the same, we ended up leaving quite early in the morning, about 3:30AM, and made an early start to our trip to Los Angeles. I would say that the scenery is beautiful in Western Arizona, and indeed I remember it to be, but the pitch black night did not favour me with a refreshment of the memory. Breakfast in Kingman, AZ, with a LOT of coffee, and we were in Diamond Bar by midday. The rest of the day was spent recuperating and spending time with family, and I've got no further pictures. Bit of an adventure, and the stars finally aligned that night for Gretchen to get a full amount of good sleep. And us as well!
The next day, of course, was our long-awaited Disneyland trip, Gretchen's first. Debra has been excited for this for ages. Gretchen too, although she scarcely understood the meaning...she'll happily prattle about Dih-Nee-LAND! but I think she assumed we were going somewhere to watch Disney movies.
And...we're there! Disney frigging Land!
Gretchen in line for the Peter Pan ride:
She's excited!
Blowing kisses to her fans (her old man, and grandma) from the carousel:
A look of boredom while waiting for it to commence...
Followed by some growing panic as it moved a bit faster than carousels of her previous acquaintance!
The horticulture here is incredible.
Looking out on the Casey Jr's train ride:
And sacked out after a morning of lines and rides.
She did snag one of the requisite mouse ear hats, embroidered with her name.
Waiting in line for a million psychotic, probably murderous dolls to shriek repetitive platitudes at us...in air conditioning...at the "It's a Small World" ride. Replete with CHURROS!!!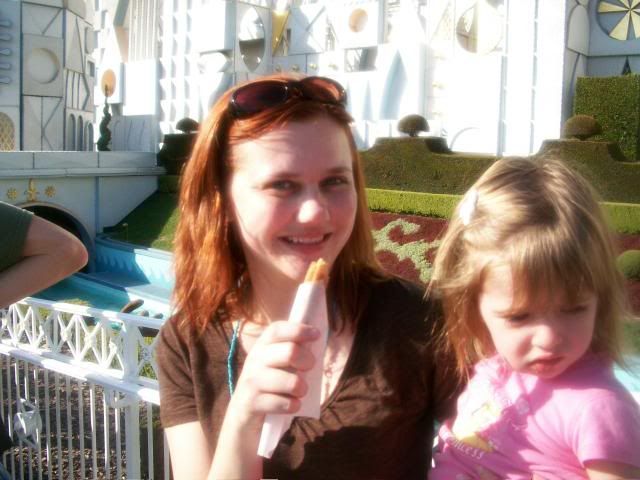 Gretchen, Mom (in keeping with her independent streak, Mommy is now "Mom" now often), and Grandma on the way out. Good times had by all. Bed time was no problem.