Today was the last day of our vacation, and we were ready to get home. Starting in Tucumcari we sped north and east, departing New Mexico and traversing smelly bits of Texas and Oklahoma before landing in Liberal, KS. Where I utilized the second of my military museum vouchers granted me by my longsuffering wife and we visited the old standby, Liberal Air Museum, now known I suppose as Mid-America Air Museum, the name changed perhaps to avoid scaring off potential visitors who would scorn to patronize left-wind establishments. Interestingly enough there was a travelling attraction there as well, apparently without regard to continuity of theme, some sort of robotic dinosaur exhibit. And out front, a repurposed Sinclair inflatable dinosaur advertised its presence.
I'd like to say Gretchen was thrilled to see a F4U Corsair but the smaller model in front was more her style.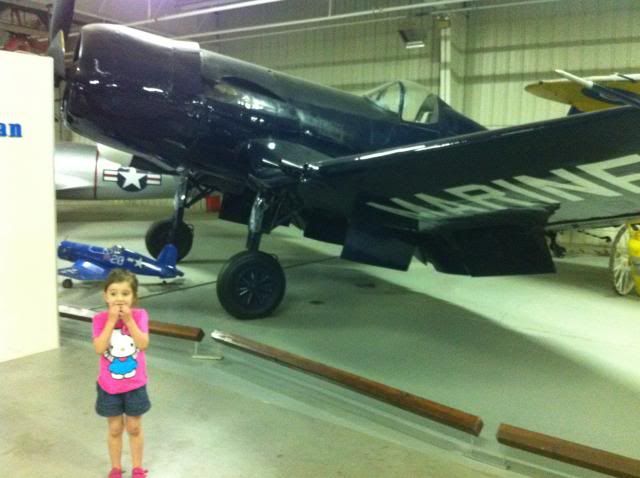 1950s era jet engine from a fighter/interceptor, I forget which one.
The F86 Sabre's gaping maw.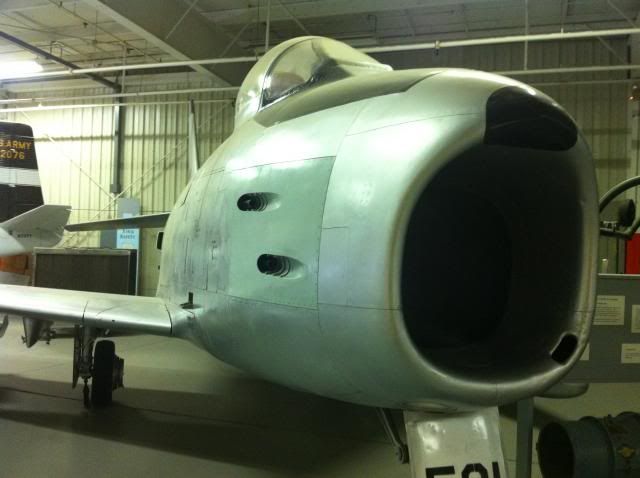 A Grumman Avenger torpedo bomber. Absolutely huge. You think of single prop planes as being small, but this one felt as big as their B-25, almost.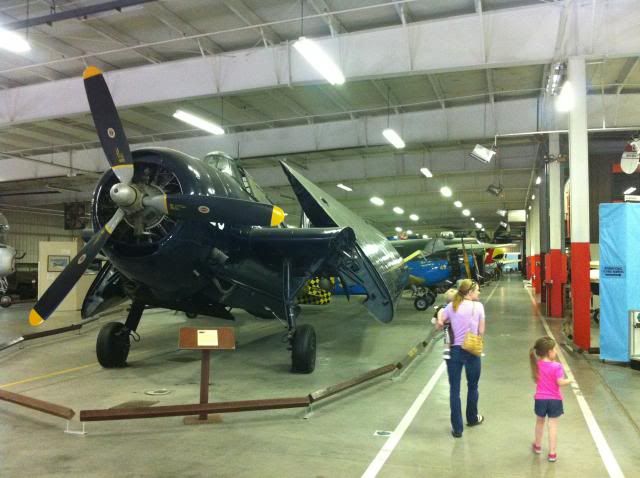 An F4 Phantom in restoration: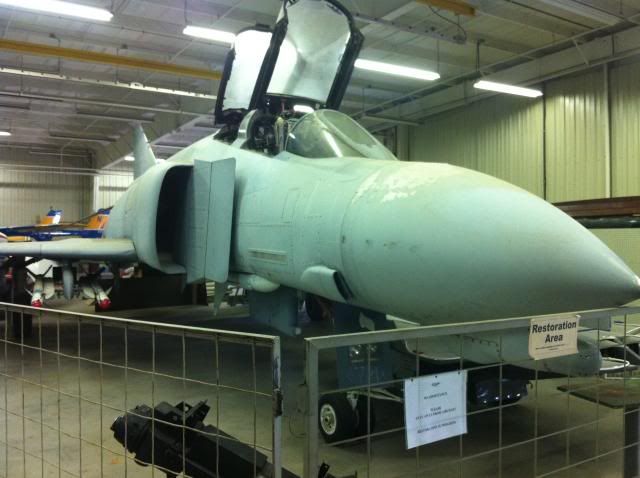 The now requisite shot of the family in the AH-1 Cobra.
So we wound quickly through the collection of old warbirds because everyone was keen to see the dinosaurs, which were filling the hangar with tremendous roars and such. We got to a dark, blacked out section and entered in, and a robotic carnivore raised its head and shrieked a bloodcurdling scream at us:
I didn't get any more shots because the kids were both interested and genuinely terrified, I had to carry Gretchen through. Pretty intense! Debra quickly got through with Peter, and while in safety in the gift shop he was asked several times if he wanted to see the dinosaurs again, to which he vehemently shook his head "no!".
Outside the hangar several old fighters lie in repose.
A quick sandwich shop lunch yielded some sticker earrings for the girl who was quite pleased with it, if not the lunch. I told her to make these last til she's eighteen.
Then further into Kansas, a lovely country to a weary traveller. At a rest stop they had a biplane on display hanging up, Peter was quite interested. Where was this interest when touring the air museum not two hours prior?!
Ahh the green hills. Home beckoning.
Winding down the street to our home we were amazed by the greenery. Not the best shot to show it, but it looked like we'd swapped for Ireland or something.
And so we're back at home. The trivial comforts therein slightly more appreciated! Still, a lovely two weeks, and all of us survived, sometimes just barely. Now, to rest.