Day Ten: San Simeon, California
Yesterday after bidding fond farewells and heartfelt yet insignificant thanks to our hosts/relatives in Diamond Bar, we drove up the coast. Up being in a northerly direction, I should probably specify. But we took a brief stop in Solvang, where we discovered the place has been increasingly o'erwhelmed by tourists such that the wait for a plate of pancakes has become somewhat ludicrous. I grant that Solvang has always existed for no higher purpose than tourism and pancakes, but still, we gave it a miss this time, and I vowed instead to learn how to make my own sodding Danish pancakes.
We landed, so to speak, in our usual haunt on the central coast, the San Simeon Pines resort. It was spitting in a weird Californian way all day, a totally different sort of rain than we are used to in Missouri, where it either is raining or isn't, but a limbo-esque rain that leaves you perpetually neither quite wet nor quite dry. Across the street for a brief walk to the ocean:
It's quite nice there even in worse weather. The sun peeking out over on the left; the rays shooting through had a very nice effect.
Playing the "throw a rock towards the ocean and then panic when the waves come up to get your precious rock" game. We're still learning the precise rules of this game.
On the boardwalk by the sea.
Playing in the largest sandbox she has ever seen. Hopefully with less cat poop.
The pines for which the place is named are quite interesting in shape.
This morning we went to what is the coolest playground I've ever seen. A few feet to the beach!
She (Gretchen, I should specify) loves getting close to the waves and then running away. Although she will occasionally insist on being carried for extra safety.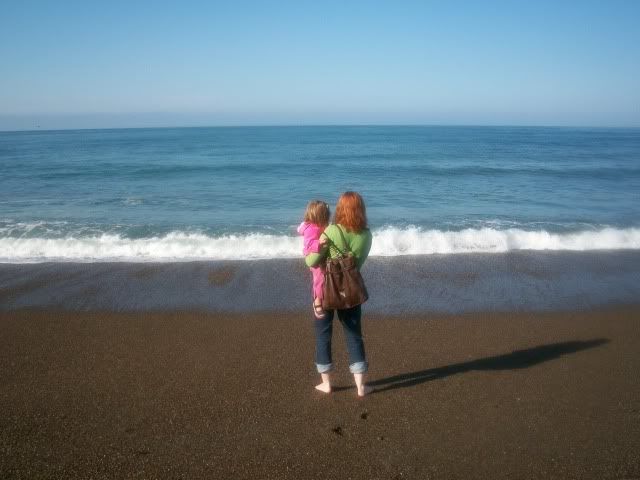 Sand sampling!
The "puppy" was less able to quickly move away from incoming waves.
Back at the resort, we stayed at a little vending machine lobby while folks finished cleaning our room, and Gretchen took it upon herself to correct the egregious errors made by the folks in charge of decorating. If you can imagine, they had placed the three flower pots on three SEPARATE tables! Hah! And hadn't even so much as placed a plastic bead necklace over the pots! Amateurs.
Then after grabbing a pizza in town we went up the coast to see the elephant seals.