So the last month or so I've been getting fantastic prices on spare ribs, and I've been doing a lot of rib smoking on the weekends. Without further
ADO
:
Indian tandoori ribs, with a blended marinade of plain yoghurt, jalapenos, cilantro, and fresh ginger root, with added spices of cumin, coriander, mustard seeds (brought back from Zanzibar from Mister D. Gibb) and turmeric. Smoked for 3 hours, foiled for another hour at higher temps, then finished off with a slathering of a prepared tandoori marinade that had a nice mild pepper flavor. Served with jasmine rice (I know, not Indian) flavored with cilantro and ginger and a bit of the original reserved yoghurt marinade, and fresh cucumber.
The Thai ribs (kra duk mu yang) were marinated in a thick paste of cilantro, peanuts, dried chilies, garlic, lime juice and lime zest, and a few other ingredients that escape my memory. Smoked for 4-5 hours, which isn't authentic, but I prefer it, and then finished up with a slathering of the thick sweet Thai chili sauce, Mae Ploy as pictured, and grilled until the sauce was thickened up on the surface. Sprinkled with crushed peanuts, and served with a meatless phad thai with egg, cilantro, and peanuts. Served with fresh lime slices, and Unibroue La Fin du Monde, which seemed to match up nicely.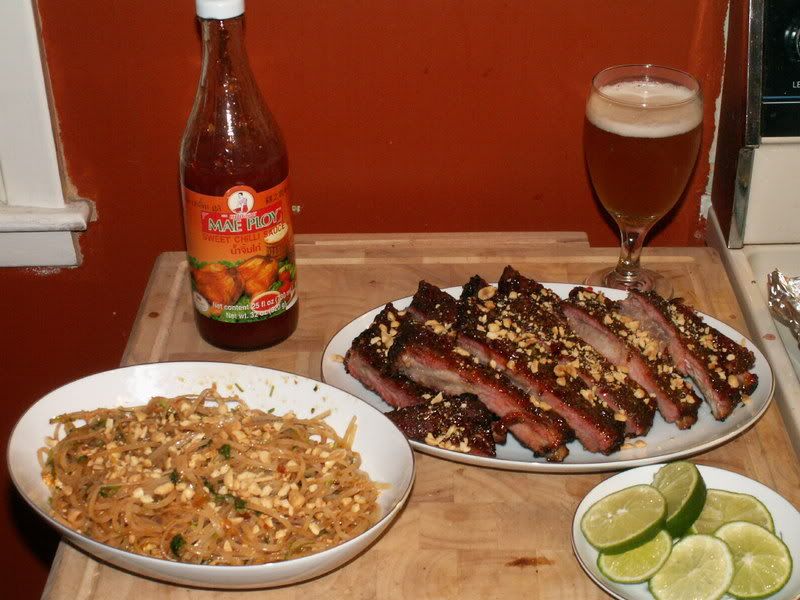 A couple racks of beef back ribs, dry rubbed with a Texas style rub heavy on chilies and garlic with no added sugar. Finished them up sauced with Gates Extra Hot sauce, which is fittingly not particularly sweet or rich. Served up with pickles, extra sauce, homebrewed hefeweizen, and three sweet potatoes that I smoked along with the ribs until soft, then mashed them up with brown sugar, milk, brown sugar, butter, and more brown sugar.
Pork spare ribs with a Carribean twist...the marinade is a blended green puree of citrus zest, fresh orange juice, scallions, parsley, a habanero, soy, vinegar, oil, allspice, and a mango. After resting overnight in the marinade, I smoked it for about 5 hours, and then basted them with a sweet rum BBQ sauce that used lots of brown sugar, blackstrap rum, orange zest, a bit of soy, some honey. A glass of the blackstrap rum (Cruzan) used with it shown to the side.
Chinese style sweet BBQ ribs...marinated with a thick mixture of hoisin sauce, sugar, soy sauce, rice wine, grated ginger, and garlic. Half of the marinade is reserved as a sauce. Smoked 4 hours, then foiled for tenderness. I cooked down about a cup of reserved marinade into a thick, sticky glaze. I cut the slab into individual ribs, and coated each rib on all sides with the sauce/marinade/glaze, and grilled until a nice candy-like glaze developed. Topped them with scallions and served.