OK, here's some pics from dinner tonight...essentially a variation on the Philly cheesesteak.
Here are the ingredients prepped before I got the grill fired up. Two medium-quality steaks (nothing too fancy) slathered in extra virgin olive oil and then coated with coarse salt and cracked pepper, with a few other spices thrown in. One big red bell pepper, and 2 "Hatch" green chilies. The Hatch chilies, as I understand, are from a particular town in New Mexico, and while they come in many heat levels, I can tell you after the fact that these were mild ones, but very delicious. Also a yellow sweet onion, sliced into slabs, and then secured with two water-soaked toothpicks, so they could be easily maneuvered on the grill without falling apart.
Built a hot fire of charcoal and a handful of hickory and apple chunks. Grilled the steaks first, to what I would call medium to medium well (again, not exceptional steaks). Then on went the peppers and onions. I closed the lid several times to let the aromatic smoke seep into the meat and veg a bit, as well as keep the fire under control. I kept the onions mostly in the medium/cool parts of the grill, because I wanted to blister/burn the pepper skin, but just wanted to cook and caramelize the onions.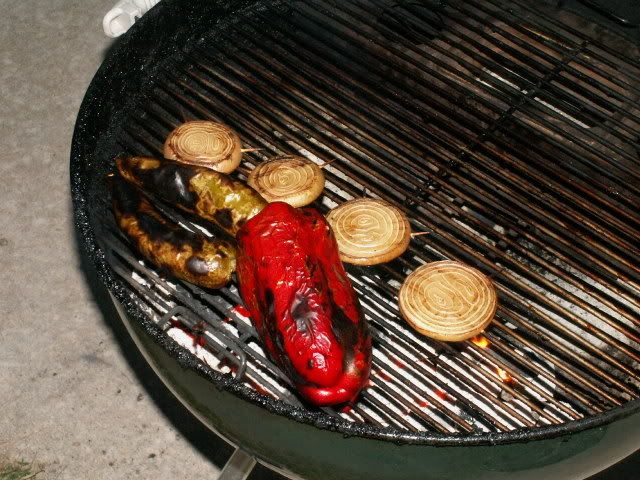 Here's everything back inside. As you see, I also grilled up a half dozen fresh peach halves...we needed to eat them before they started to go bad, and there was the fire, so it seemed like a worthy experiment. They were fantastic and were gone before I could even get everything ready for the sandwiches. Kind of like a very natural sort of fresh peach pie.
I peeled the burnt skins off the peppers, diced them up with the onions, and then thinly sliced the two steaks. All went into a skillet which I briefly cranked up over some heat again, to reheat everything and meld the flavors a bit.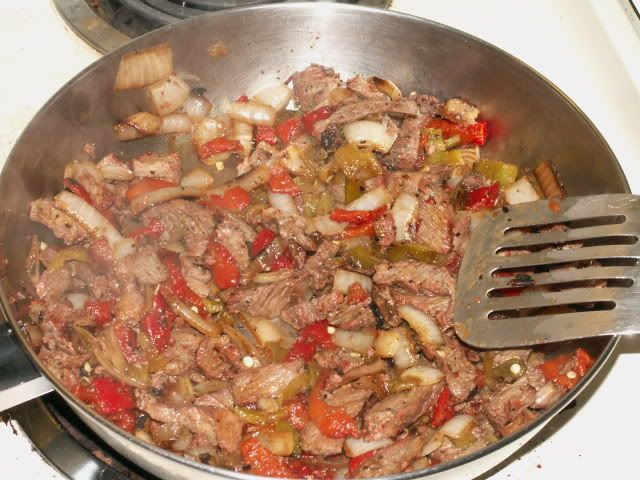 Here it is assembled, with a mild provolone cheese on top. Good stuff. Served with a homebrewed blackcurrant cider.